研究機器・装置とそれらをマネジメントする研究室運営は、研究者の日々の活動と切っても切り離せない存在であり、研究機器・装置の効率的な活用は研究パフォーマンスにも影響します。特に、 PI(研究室主宰研究者)になりたての研究者では、研究室運営は手探り状態の場合もあり、研究機器・装置のマネジメントで悩みを抱えている若手研究者も少なくないと思われます。また、分野を越えた研究機器・装置に触れることで、思わぬ新しい共同研究に繋がる可能性もあります。筑波大学では、オープンファシリティ(研究機器・装置の共用化)の在り方について様々な議論が重ねられており、機器を介したさらなる有機的な連携強化が求められています。
 この度、研究機器・装置を題材としたセミナーを実施し、効率的な研究室運営や、研究機器・装置を介した研究交流についてノウハウの共有を行います。
 また、アフター交流会では登壇者以外の希望者による研究機器・装置の新たな活用の掘り起こしをしたい方の紹介や、研究者同士の相談・座談会を実施します。
 研究室運営の効率化にヒントを得たい方、研究機器・装置の説明から共同研究の可能性を探りたい方、将来研究者を目指す博士課程学生等のご参加をお待ちしています。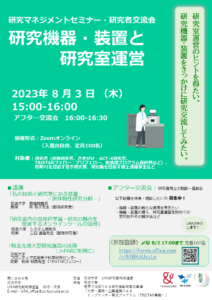 <プログラム>                                       
1)開会あいさつ
  重田 育照:筑波大学 副学長・ 研究担当
2)趣旨説明
  栗原 翔吾:筑波大学 URA研究戦略推進室
3)研究者の講演
「私の技術と研究室にある装置-固体物性研究分野-」

  所 裕子:筑波大学 数理物質系 教授 創発研究者
「研究室内の自発的学習・研究の融合を促進するオンラインツールの活用」
 三目 直登:筑波大学 システム情報系 助教 創発研究者
「特定先端大型研究施設の活用:J-PARCを例に」

 前田 知貴:茨城大学 フロンティア応用原子科学研究センター 助教 TRiSTAR事業フェロー
4)質疑応答・議論
5)閉会の言葉
  梅村 雅之:筑波大学 URA研究戦略推進室長
【アフター交流会】
機器・装置の新たな活用を目指す研究者からの機器・装置紹介
研究室運営に関する研究者同士の相談・座談
※共有したい話題がある方はぜひご参加ください。
例)研究室にこんな機器・装置があるけど、他の人にも使ってもらいたい。 
    機器・装置の導入:こんな苦労があった。
      導入にあたってこんなことのハードルが高い、どうにかしてほしい。
例)初めての研究室運営での苦労話。こんな風に解決した。
【事前申し込みフォーム】〆切 8/2(水)17:00(先着100名)
事前にお申込みいただいた方にZoomのURLを後日、お送りいたします。

<問い合わせ先>
 筑波大学 URA研究戦略推進室 飯塚・栗原
E-mail:URA_office〔at〕un.tsukuba.ac.jp
※〔at〕は半角@に替えてください。
---
(8/3) Research Management Seminar "Research equipment/devices, and Laboratory Management" and After Networking Session
(8/3) Research Management Seminar "Research Instruments, Equipment, and Laboratory Management" and After Networking Session
   Research equipment/devices and the laboratory management that manages them are inseparable from the daily activities of researchers, and the efficient use of research equipment/devices affects research performance.
 This event will combine a seminar on research equipment and instruments with a social event to share know-how and exchange opinions on efficient laboratory management and research collaboration.
If you are interested in improving the efficiency of laboratory management and creating opportunities for research collaboration by equipment and devices, please join us. This event will be conducted in Japanese.
August 3 (Thu.) 15:00-16:00 After Exchange Session 16:00-16:30
【Place】 Zoom online seminar for the first 100 participants (URL will be sent to pre-registered participants)
【Target】 Researchers (Emergent Researchers, PRESTO/ACT-X Researchers, TRiSTAR Fellows and Pre-Fellows, etc.), Early-career Scientists aiming to become PIs in the future, doctoral students aiming for research positions, etc.
【Language 】Japanese
【Program】
1) Opening Remarks
  SHIGETA Yasuteru: Vice President for Research, University of Tsukuba
2) Explanation of the purpose of the meeting
  KURIHARA Shogo: Research Administration/Management Office, University of Tsukuba
3) Lectures by researchers
" My Techniques and Equipment in the Laboratory: Solid State Physics Research Field "
 TOKORO Hiroko: Professor, Institute of Pure and Applied Sciences, University of Tsukuba
"Use of Online Tools to Facilitate Spontaneous Learning and Research Integration in the Laboratory"
 MITSUME Naoto: Assistant Professor, Institute of Systems and Information Engineering, University of Tsukuba
"Utilization of Specific Advanced Large Research Facilities: J-PARC as an Example."
 MAEDA Tomoki: Assistant Professor, Frontier Research Center for Applied Atomic Sciences, Ibaraki University
4) Q&A and discussion
5) Closing remarks
 UMEMURA Masayuki: Director, Research Administration/Management Office, University of Tsukuba
【After Networking Session】
– Introduction of equipment/devices from researchers aiming for new utilization of equipment/devices
– Consultation and discussion among researchers on laboratory management
If you have a topic you would like to share, please join us.
Example: We have this kind of equipment/device in our laboratory, but we want others to use it.
    Introduction of equipment/devices: We had difficulties like this.
      I want you to do something about these hurdles in introducing the equipment/device.
Example: Difficulties in running a laboratory for the first time. I solved it like this.
【Pre-registration form】Closing date: Wednesday, August 2, 17:00 (first 100 applicants)
Zoom URL will be sent to those who apply in advance at a later date.

<Contact Information
 Research Administration/Management Office, University of Tsukuba Iitsuka/Kurihara
E-mail: URA_office [at] un.tsukuba.ac.jp
Please change [at] to @