McEwen, Bruce S. Hargreaves, Eric, L.
キーワード: Learning、Memory、Sleep、Functional Organization、Hippocampus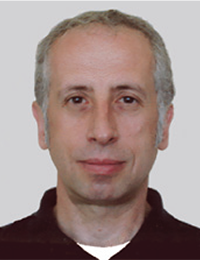 Professor Pavlides is an electrophysiologist and his Research Unit is currently focusing on understanding the role of sleep in long-term memory consolidation. His research unit consists of a collaborative group of neuroscientists and uses a combination of scientific approaches, such as behavioral, molecular, anatomical and electrophysiological. He mentioned that this collaboration is necessary to attack his challenging aims because science now days is not so simple and combining knowledge from scientists with different expertise is the only way to solve complex problems.
What is sleep all about?
We spend a significant amount of time sleeping; about 8 hours/day or one-third of our lives. His major question is why do we do that? Do we just need rest? The answer does not seem to be so simple. Previous research had suggested that sleep may play a role in learning and memory. Most of the evidence for this, however, was correlational or anecdotal. His laboratory was the first to obtain hard scientific evidence that animals need sleep for memory consolidation. This was a 'very big finding', as he said, and that it was his best discovery as a scientist. His experiment was very simple. He recorded from single cells in the hippocampus, a part of the brain which plays a major role in learning and memory. The activity of these cells is involved in spatial navigation – i.e.,
"place cells". Animals were confined to the place field of a place cell (a specific part of an environment with very high firing rates) while they were kept away from the place field of other place cells. When the animals went to sleep, the cells that were active during the awake state became 're-activated', in comparison to cells that were kept away from their place field (in which case they fired at low rates in sleep). This suggests that
neuronal activity during sleep is involved in longterm consolidation of memories. Subsequent research from his laboratory showed that various genes involved in plasticity (e.g., Zif268, Homer 1a) are also re-activated in sleep (Fig. 1, lower right panel) following a learning experience.
What is happening in the brain during sleep?
Studies undertaken since arriving at the University of Tsukuba, are aimed at investigating whether the memory enhancements in sleep may involve the activation of protein kinase A (PKA). In an initial experiment, rats were context fear conditioned following which they were allowed to sleep or kept awake during the next 4 hours (animals were tested in a home-made sleep chamber, consisting of a rubber trash container fitted with lighting, video camera, brain infusion equipment, etc – see Fig. 2, right). They were then tested for fear memory 24 hours later. Animals that were sleep deprived froze less to the context, meaning that they did not remember as well the shocks. Infusing a PKA inhibitor into the hippocampus during sleep, also disrupted fear memory, whereas, infusing a PKA activator in animals kept awake restored the fear memory. Currently, his lab is investigating possible mechanisms that may modulate both neuronal activity and PKA expression for the consolidation of memory. Specifically, they are looking at whether sharp wave ripples, observed in hippocampal EEG during sleep, may be the brain mechanism that modulates both neuronal activity and PKA expression. If indeed this is the case, it will be a very exciting finding.
What does he teach at University of Tsukuba ?
Before Professor Pavlides came to the University of Tsukuba, he was a faculty member for 30 years at Rockefeller University, New York, USA. At Tsukuba, he teaches a couple of courses:
scientific conversation in English and scientific writing in English. He emphasizes "critical thinking" which is fundamental in USA and is a very important skill for scientists.